Podcasts I Like
Not sure where I've been for the last few years, but i've been sleeping on podcasts. Why didn't anyone tell me there were some good ones out there?! It's been a few years since I last tried (read: forced) myself to listen to a podcast and maybe it's where I am in my life right now, but the podcast gods have placed some really good ones into My Podcasts list. Here are the podcasts I like right now:
Jenna Kutcher is a marketing queen! Her interviews are intellectual and sometimes personal and her tips for growing your brand are very insightful. Keep a notebook close as you'll want to take notes. I recommended this podcast to my mom and already see her making changes.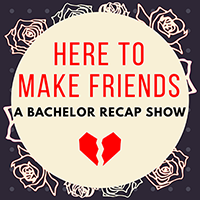 Here to Make Friends — A Bachelor Recap Show
If you love The Bachelor(ette) as much as I do then you'll live for this podcast. Emma Gray, Claire Fallon, and a special guest hilariously recap Bachelor episodes in an inside joke kind of way that'll make avid watchers crack up and non-fans scratch their heads.
If you've ever felt like you couldn't follow your passion, Lewis Howes and special guests will crush your doubts and kick your butt into gear. I highly recommend you catch his Five Minute Friday segments — it's the best!
Julie Solomon has done an amazing job at taking everything she knows about PR and packaging it in a way that is easy to teach and learn. I highly recommend her podcast if you are an aspiring blogger or influencer looking to take your brand to the next level.
What podcasts have you been listening to as of late? Comment your favorites down below.