Beauty Essentials For a Weekend Work Trip
When I first started traveling for my job I made sure to pack light (because I know I can get a little high maintenance when it comes to my beauty travel bag, lol). It's taken me a few work trips to learn how to make use of a small packing space and which beauty products are actually essential. Since i'm in the process of packing, I thought it would be a good idea to share with you my travel beauty essentials for a weekend work trip.
Heads up: This is a pretty lengthy post with lots of shopping recommendations! You can also visit my shop to shop all of my favorite beauty & lifestyle products.
For the sake of my skin, I like to stay as true as I can to my daily skincare routine as possible. This includes packing a gentle cleanser, toner, serums, moisturizer, and eye cream. If i'm going on a short work trip (two nights or less) i'll pack skincare samples* i've collected of the items listed above. If i'm going on a long work trip, i'll pack my daily skincare products into smaller bottles. *Tip: Sephora's 500 point Beauty Rewards kits with the skincare samples are great for travel.
CeraVe Foaming Facial Cleanser
Sunday Riley Martian Mattifying Water-Gel Toner
Neutrogena Acne Stress Control Toner
I use this toner at night to remove any excess dirt and stress from the day.
Tarte Drink of H2O Hydrating Boost Moisturizer
Origins GinZing Refreshing Eye Cream
I use this in the mornings to help brighten any dark under eye circles I get from sleeping on my face all night.
Kiehl's Creamy Eye Treatment With Avocado
I use this eye cream at night to keep my under eyes moisturized because I like to sleep with all of the fans blowing on me.
Bare Republic Mineral Sunscreen Face Lotion
Sunscreen is the most essential beauty item you can pack in your travel bag. Protect your skin from premature wrinkles from the sun by applying it to your face every day.
Now that I have short hair, i've shortened (lulz, get it?!) my hair routine by 10 minutes. I am totes that girl that packs multiple cans of full-sized dry hairsprays, texturizing sprays, pomades ... *hides*. If i'm working an event that involves me staying indoors (in the a.c.) i'll pack my 1" curling wand and Ouai Finishing Creme to style my hair.
If you have dry, damaged hair you need this oil in your beauty stash. I never leave the house without because it's that good. Run 1-2 pumps through wet hair (starting at the ends) to repair hair.
Living Proof Perfect Hair Day Dry Shampoo
I love this stuff! Smells good, no white residue, and definitely no oily hair. This is like my 5th can.
Since most of my work trips involve me hauling equipment around in parks, I try not to wear too much makeup. Two makeup essentials I must have though is my eyebrow pencil, mascara, and chapstick.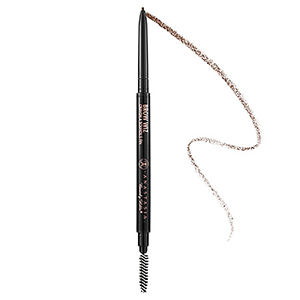 Anastasia Beverly Hills Brow wiz
Maybelline Falsies Mascara
This is my favorite mascara to lengthen my damaged, stubby lashes.
A good travel case is essential to making packing your beauty essentials painless. This travel case from Sephora Collection is my favorite! It's compact so you can pack it in your luggage/carry on but also has lots of room for your skincare, hair, and makeup beauty essentials.
What are your beauty essentials for a weekend work trip?